Set Salt and Pepper WMF Ceramill Nature

We guarantee that NFD is authorized to sell this product and that every brand we sell is authentic.

Returned service supported
Return or replacement service for ordered goods.
Item number: 06-5231-4500
The WMF salt and pepper grinder set 2-parts made of wood is not only practical, but also a decoration for the kitchen. The combination of glass and oak gives the set a noble character. The container is made of glass, thus you can always see the current amount of pepper and salt. The upper part, which houses the grinder, is made of oak. WMF has chosen ceramic for the production of the grinder. It's a material that's harder than steel. Ceramic is not prone to corrosion, which is especially important in a salt mill. Wear due to abrasion are also not given. The contents of the mills are protected with a flavor protection lid. Particularly useful is the continuous control of the grinding strength. Since the grinder sits on the upper part of the mill, the mill can be turned off without any residues falling out. WMF gives a 10 year warranty on the ceramic grinder.
Free delivery over 75.00 € in Italy
Express shipments while traveling on safe vehicles, free on orders over 75.00 € in Italy

Returned service supported
Return or replacement service for ordered goods.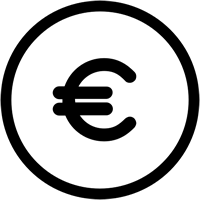 Payments
Credit cards
Visa, Mastercard, Postepay, Apple pay, Paypal
Payment in installments
Klarna (Stripe)
Bank transfer
Possibility to pay by bank transfer
Visit customer service
for more information on returns, exchanges and refunds

Place your order with us
Send us an email
info@newformsdesign.com
Delivery times are valid after payment has been made.
The order will be processed on the date the payment is credited, whether made by credit card, paypal or bank transfer.
The expected delivery date is indicative and cannot be considered binding by Newformsdesign.
Prompt delivery: this product is immediately available in the quantities and variants indicated and will leave our warehouses within 24 hours of order confirmation or from external warehouses within the indicated days (example: Immediate 7 days).