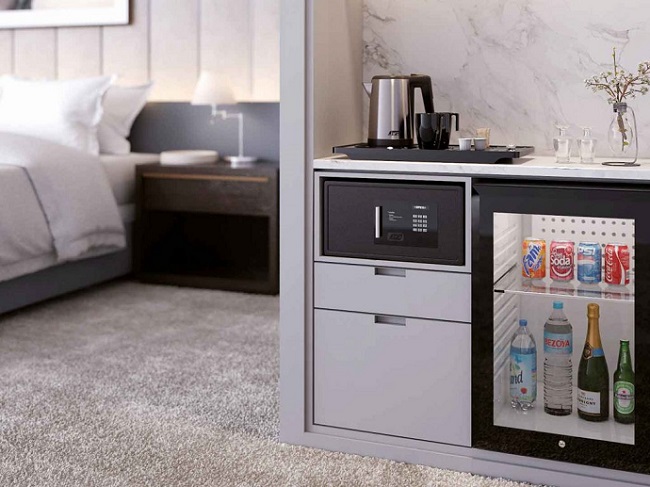 HOTEL MINIBARS
Our minibars are equipped with the latest generation of intelligent technologies. Whether they are absorption or thermoelectric systems, our minibars are ecological, reliable and totally silent.
HOW TO
CHOOSE YOUR MINI BAR ?
COMPRESSION
Compression mini bars use a refrigerant that causes compression cooling. They are efficient and affordable but they are noisy and suffer from the wear of mechanical parts.
THERMO-ABSORPTION
New Generation Thermo-absorption minibars Mix the Peltier effect and absorption mecanism to generate cold. Environmentally friendly, reliable and totally silent, they consume 66% less energy, quickly compensating (less than a year) a slightly higher cost.
ABSORPTION
Absorption Mini-bars generate cold by heating a mixture containing ammonia. Very affordable, reliable and totally silent, they require perfect rear ventilation and can leave a strong ammonia odor in case of leakage.
THERMOELECTRIC / PELTIER
Thermoelectric mini bars use the Peltier effect to generate cold. They are very reliable but relatively noisy. Their temperature is not adjustable and they are relatively energy-efficient.