Jura

The best international brands selected for you by Newformsdesign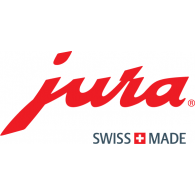 Take care of changing times
Since 1931, the Swiss company JURA Elektroapparate AG has developed innovative and high-end appliances.
As pioneers in the field of coffee / espresso machines, JURA has been one of the leading contributors in the household appliance sector since the mid-1980s. Now, the company uses its experience and knowledge to develop semi-professional equipment for the office and canteen services sector. The traditional Swiss brand has now become a global player. The headquarters of the company is located in Niederbuchsiten, Switzerland. JURA is represented in Germany, Austria, the Netherlands, USA, UK, Australia, Spain, Sweden and Southeast Asia by its sales organization and joint venture. In many other parts of the world the company reaches markets in close collaboration with distributors.
The fundamental Swiss values
Innovation, precision, quality, reliability, sustainability and service characterize JURA's company DNA. The Swiss company is also the only brand in the world to focus exclusively on automatic coffee machines for the premium segment: this is why JURA clearly positions itself as a specialist within the market. JURA automatic machines are synonymous with excellent coffee, very simple use and exceptional design.
Great coffee
70 engineers work exclusively on the development of JURA automatic machines. Their goal: an unbeatable coffee, freshly ground with the press of a button and extracted at the time. Thanks to the revolutionary process of cadenced extraction (Pulse Extraction Process, P.E.P.®), the company has recently reached a new milestone, for a full aroma even in short coffee specialties.
Very simple use
JURA automatic machines are self-explanatory and their use is simple and intuitive. A convincing example: the filter cartridge and the automatic machine are connected to each other via RFID technology. Filter identification and related device settings take place automatically.
Exceptional design
Swiss design and architecture enjoy an excellent reputation all over the world. JURA combines sober and expressive lines with precious materials with an extraordinary constructive precision and a quality of workmanship that leaves no room for compromises, creating interior furnishing objects whose strength and authenticity and whose charm are for years a source of pride for those who owns them. The tactile quality is such as to create at each contact an emotion that goes straight to the heart.
Sustainability and eco-intelligence
JURA has traditionally a strong ecological awareness and a respectful use of resources and energy. That's why it's all about automatic machines, able to prepare personalized coffee specialties designed to guarantee high energy efficiency and avoid the production of useless packaging waste.
Global assistance service
JURA automatic machines stand out for their robustness. Even after many years of use, it can be serviced at the after-sales service. The components are regenerated, thus saving natural resources. All this is possible thanks to a dense network of service centers, Hospitality Centers and authorized JURA service centers.
Complete coffee solutions that satisfy every habit
For private homes: in every room, automatic machines surprise with their exclusive design, convince with maximum comfort of use and excite with an unbeatable coffee.
For professional uses: in any workplace, in offices, shops, bars, hotels, hairdressing salons and everywhere else, professional automatic machines delight customers, guests and employees alike with a coffee perfect. All this with a truly exceptional value for money.
The sum of all the ingredients gives an unbeatable pleasure
For their creations, great chefs use only the best ingredients. JURA automatic machines do exactly the same thing. Only when espresso and milk foam are perfect, it is in fact possible to prepare exceptional coffee specialties in all their richness of taste.
An unsurpassable espresso
JURA has radically perfected the delivery process. The revolutionary cadence extraction process (Pulse Extraction Process, PEP®) optimizes the extraction time for short and express, making the water jets of boiling water pass through at intervals in quick succession in a cadenced manner, thus guaranteeing a unmatched aroma even for short specialties. Enjoyed pure or as a base for imaginative coffee creations: thanks to the JURA technology the pleasure is exclusive.
Perfect milk and milk foam
The innovative nozzle technology prepares a soft and compact foam with an irresistible quality. Switching from milk to milk foam takes place completely automatically. Thanks to the regulation of milk and milk froth temperature - a world first - just press a button to obtain refined trendy specialties of the same high quality of the bar.
Intuitive command
With the JURA automatic coffee machines the coffee wishes come true. Just press a single button ... or touch the smartphone display. A philosophy of use studied in detail, multiple programming possibilities, RFID technologies and mobile apps make the use absolutely self-explanatory and satisfy even the most demanding tastes at all times.
The pleasure of coffee from your smartphone
The JURA software engineers are radically revolutionizing the pleasure of coffee: through an app you can comfortably make all the settings from your smartphone *. The preparation of personalized specialties can be started by simply touching the display of the mobile phone. And also: the app is also able to memorize individual preferences. At any time and with any JURA automatic machine equipped with Smart Connect, it is therefore possible to prepare the desired coffee.
Automatic filter identification
The last generation automatic machines and filters communicate with each other. The filter cartridge and the automatic machine are connected to each other via RFID technology. Filter identification takes place automatically, while the corresponding device settings are made independently. Never before has the use of the filter been so simple and safe. * Also available for tablets
Award-winning design
The language of forms of JURA exudes calm, strength, accuracy, quality and resistance. Values ​​for which Swiss architecture and design enjoy worldwide fame. Awarded several times for international design awards, JURA coffee machines have long since acquired the status of interior furnishings. They are in fact considered a style choice to express their good taste.
Clear design language
The no-frills ŦCool Nordic Designŧ by JURA has an athletic character and harmoniously combines taut lines and smooth surfaces. Thanks to its iconic nature, the essence and classicism that characterize it resist the fleetingness of fashions.
Fine materials
Made with Swiss precision and with fine materials, the elegant automatic machines are characterized by the quality of workmanship, aesthetics and tactile quality.
Award-winning design
JURA's design even holds up the critical judgment of international juries specializing in different continents. It is no coincidence that automatic machines are regularly awarded with renowned design prizes.